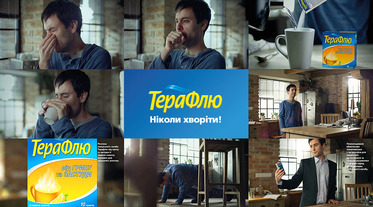 No time to be sick
The category of hot drinks for cold and flu is one of the biggest segments in the pharmaceutical market of Ukraine. 70% of the market is shared among 4 brands: Pharmacitron, Coldrex, Fervex and Theraflu (only the 4th place).
There is low differentiation between the brands. According to the study by Ipsos (January 2012 g), 61% of Ukrainians seek pharmacists' advice and this is the main driving force for Farmatsitron - #1 brand in the category. But due to corporate policy, Theraflu's the main channels of promotion are the only traditional channels.
The objectives:
1. To increase sales by 18% *.
2. To increase brand awareness by 7%**.
3. To increase consumption by 5%**.
Results: the brand moved from the 4th to the 2nd place in the category.
1. Sales increased * by 21,6%
2. Brand awareness increased ** by 9,5%
3. Consumption increased** by 7,5%
*data from SMD, Dec'11 YTD
**data from Ipsos Brand Tracker, wave 2 Jan'12
---
Agency title
Saatchi&Saatchi
Oleg Lapshin, Creative Director
Marina Valeeva, Client Service Director
Natalia Oksenenko, Account Director
Elena Goncharuk, Copywriter
Andrey Krysenkov, Art Director
Denis Prutenko, Producer

Media Agency MEC

Corporate name
Novartis Consumer Health S.A.
Olga Bogolepova, Marketing Manager a.i.
Natalia Kravchenko, Brand Manager