Bronze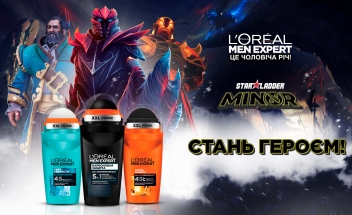 Become a hero with Men Expert!
When conventional advertising and communication channels were not promoting brand growth, we had to be bold and search for our own path to success. We made a fundamental change in our focus, found our own unique area and were the first in the category of male deodorants who got into esports in such a massive way.
We used a comprehensive approach in developing our support measures: selection of a game, sponsorship of a championship, development of creative ideas, scaling up through communication channels with wide coverage, and so on.
All of this has brought us to such prominent results business results that we decided to be consistent in our actions and continue with the topic of online gaming in 2021, too.
We are present not only in DOTA2, but also in mobile gaming already.
Not only for 1.5 months, but the whole year round.
Not only with deodorants, but with the entire product range.
Become a hero too with Men Expert!
---
Agency Name: Zenith
Client Company Name: L'Oréal Ukraine
Contributing companies:
"SLTV" LLC
Hanna Demianchyk, Brand manager, L'Oréal Ukraine
Kateryna Zakharash, Marketing Director, L'Oréal Ukraine
Aleksandra Papenko, Brand manager, L'Oréal Ukraine
Anna Vynohradova, Junior digital specialist, L'Oréal Ukraine
Evgeniya Shcherban, Group Account Director, Zenith
Olena Lozenko, Account Director, Zenith
Anastasia Livinets, Branded Content Director, Publicis Groupe
Mariia Velychko, Strategy Director, Zenith
Viacheslav Shcherbakov, Head of sales, "SLTV" LLC
Andriy Yatsenko, Senior product manager, "SLTV" LLC