Bronze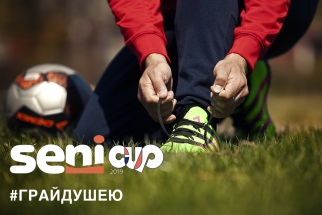 #playWithHeart
Since 2003, Bella Trade has been organizing the annual Seni Cup tournament: a football championship among orphanage students. Life of these people in a boarding institution is painful, pointless and joyless. For some guys, participating in the Seni Cup football tournament, without exaggeration, is the only meaning of life!
But the fans' stands of the Seni Cup tournament remained empty year after year, because for society on the other side of the boarding walls, this problem is unknown and uninteresting. 
In 2019, we finally brought this important problem to the attention of the media, celebrities and people. With zero media budget our PR campaign and the Facebook and Instagram challenge reached 2.15 million people and created such a large fan community in the stands and online and at the end the Ukrainian Football Federation became the full support partner of Seni Cup 2020! 
---
Agency Name: MedInform Ukraine
Client Company Name: Bella-Trade
Contributing companies:
TWIGA Ukraine
lovivideo
Media First Ukraine
TWIGA Digital
Anastasiia, Pekaryk, Marketing Director, Bella-Trade
Svitlana, Stepanenko, СЕО, TWIGA Ukraine
Olena, Samoylenko, Managing director, MedInform Ukraine
Diana, Hrynievych, Project Leader, MedInform Ukraine
Lyudmila, Drevetskaya, Account Manager, MedInform Ukraine
Anastasiia, Panko, PR & SMM-manager, MedInform Ukraine
Andrii, Provotar, Creative Director, lovivideo
Anna, Ostapenko, Strategic Planning Head, Media First Ukraine
Kateryna, Shvets, Head of SMM, TWIGA Digital
Kristina, Vurgaft, Client Service Director, MedInform Ukraine