Bronze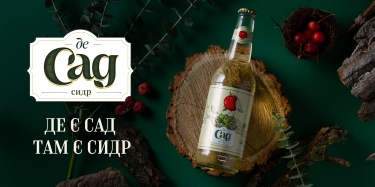 How to send a competitor to the garden
In 2020, AB InBev Efes Ukraine had the courage to enter the garden as well, which had been persistently cultivated by Somersby for nine years, with their apple version of the now trendy cider and plans for at least 10% of the volume in the garden.
We decided to play on the meanings and create a deconstructionist brand that was ironic about modern culture. It is the first postmodern cider ever, in which a variety of different contexts and meanings not just mix but also ferment to the limit or rather to the absence of any limit.
A commonplace Ukrainian apple garden, together with all its inhabitants, is placed in the uttermost grotesque of ideas, contexts, and meanings, which are twisted into an infernal mingle-mangle, starting from the name of the cider and ending with the history of the video.
De Sad took second place in just one season instead of the planned third place, and won 15% of volume share instead of the ambitious enough 10% of VS.
---
Agency Name: BBDO Ukraine
Client Company Name: AB InBev Efes Ukraine
Contributing companies:
Buzzfactory Ukraine
Vizeum
Anna Rudenko, Marketing Director, AB InBev Efes Ukraine
Karine Gariachun, Senior Brand Manager BUD & Premium Brands, AB InBev Efes Ukraine
Oleksandr Perera, Brand Manager BUD & Premium Brands, AB InBev Efes Ukraine
Victor Ishkov, Regional CEO, BBDO Ukraine & Central Asia
Denis Keleberdenko, Creative Director, BBDO Ukraine
Dima Kishka, Creative Group Head, BBDO Ukraine
Maria Teterin, Head of BBDO Branding, BBDO Ukraine
Anastasia Sirenko, Graphic Designer, BBDO Ukraine
Krystyna Kozlova, Account Director, BBDO Ukraine
Anastasia Bezhevets, Senior Account Manager, BBDO Ukraine